All over the world, there are many organizations having an online presence and also serving their community and the world with their services on the internet. Large scale companies have their websites with high complexity and graphics also. These companies transfer a huge amount of data on daily basis. Many transactions are done by them over the internet.
To maintain and manage the above conditions, websites owner need servers and operating machines with more efficiency and compatibility. To meet these needs, a dedicated server is one of the best and efficient options to run the websites. . Because on a dedicated server you do not need to share your machine and resources with any other system, so you have full ownership to run your website and business smoothly.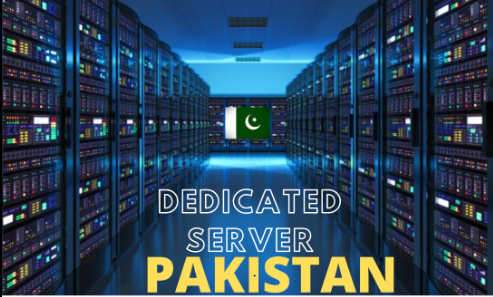 In Pakistan also, many national and international companies are working to serve the people of Pakistan and the whole world. These firms use the internet to transfer data and make various types of transactions on a daily basis. They also have websites and running their online business and delivering their products with the help of the internet. For running their online business, they are using powerful and large servers that help them in daily working.
What is a Dedicated Server?
We can define the dedicated server as, a physical server used to host and websites, applications, and services of a single hosting client. In dedicated server hosting, the client has full control of the server and uses all resources by itself, and not share any resource with any other client. Typically, the dedicated servers used to host high traffic websites, web applications, and many other tasks that an owner wants. One has full control of the server and can configure, customize and install the server applications.
With dedicated server hosting, everything the server has to bring to the table is available to you, which is the reason committed servers are the most remarkable framework hosting option — no other hosting choice can give your more force and adaptability in comparison with this.
With dedicated server hosting, everything the server has to offer is at your disposal, which is why dedicated servers are the most powerful infrastructure hosting option — no other hosting option can give your more power and flexibility. Unlike shared and VPS hosting, a dedicated server has extra and pro features. A dedicated server is more powerful, contains a huge amount of storage, CPU, and RAM. Full control on the whole machine, having all features by one client, using all resources like RAM, CPU, and storage by a single company, and its working power and reliability make the dedicated server more desirable and prior machine in the world of hosting online matters.
Who should choose a dedicated server:
If you are a beginner, having small startups, or a new blogger, then shared hosting is best for you. On the other hand, if you are running a large eCommerce company or any other big business and also providing online services on large scale and expecting huge traffic on your website, then dedicated hosting is best for you. You will need large transfers, emailing service, data storage, and many other facilities every day. So, all these tasks you can't perform without having a powerful machine that runs your whole business without any hurdle. This is because in shared hosting a number of websites share a single server, and this could generate problems for your website when huge traffic will access your business online. Therefore, you should choose a dedicated server, avoiding any hassles, and simplifying your services without any hassle.
Types of dedicated hosting:
Typically your website hosting providers take care of your website management and facilitate you with every possible service. But, it depends on you how many services you want to purchase, whether you select managed or unmanaged server. Both are the categories of a dedicated server. Details of both types are below:
⦁ Managed Dedicated Hosting: This is the type in which hosting providers deal with setting up, administration, overseeing, upgrading, and supporting your worker. Service providers handle your worker programming and your organizations for you. This type of dedicated server is more reasonable for those who have not technical skills, not right with programming, system administration, and security issues. But recommended is that, you should have some technical skills when you are choosing a dedicated server because you can make changes when you want.
⦁ Unmanaged Dedicated Hosting: An unmanaged server is less expensive and only guarantees by the hosting provider for the equipment and running of websites easily. You will have full access and control and responsibility to manage, program, configure and oversee the server. You can make changes and can enhance security by yourself. select this type only when you have full knowledge and technical skills about it.
Features of dedicated hosting:
Especially when you are running a big organization then you will need some pro features for hosting your website. All top-level features dedicated servers provide you. Some of these are below:
⦁ Top-level security: When you are running an online business, then the first thing that you should keep in mind is security. As in VPS and shared hosting, you share the hardware and storage with other websites, there is always the fear of data leakage and security breaks. But in the case of a dedicated server, you will find optimal and high security for your data and your website.
⦁ Fast Pages Loading: If you have a large online business and also have a great-looking website then definitely you should have fast loading of multiple pages on your website. Because without providing fast surfing, you can't achieve your goals. So, a dedicated server provides you with fast loading and therefore people move from shared&VPS to a dedicated server.
⦁ Unique IP Address: As we know each server has its own IP address. In shared hosting, you also share your IP address with multiple other websites. This means if your neighbor's website is spam or an adult site, then this affects your website and also ranking. In the case of a dedicated server, you have your own unique IP Address. This is most important when you are running an E-commerce site and require credit card transactions.
Pros and Cons of a dedicated server:
When we talk about dedicated hosting then definitely there will be some advantages and disadvantages. Some are below:
Advantages:
⦁ Fast speed
⦁ High security
⦁ Bandwdith
⦁ Reliability
⦁ Durability
⦁ Customization
⦁ Full Control
Disadvantages:
⦁ Expensive
⦁ Requires technical knowledge
⦁ Not suitable for small websites
In short, we can say that a dedicated server is more preferred and desirable for big businesses if we want to meet our set goals.
In Pakistan who is providing hosting:
In Pakistan many companies providing web hosting services. Pk Domain is one of the best service providing company which is facilitating its thousands of customers all over the world. Pk Domain is a Pakistan-based company that is working and providing its services to promoting advanced technology in Pakistan.