If you are running your business in Pakistan and facilitating your community with your various type of services, then you will be aware of national/local rules and regulations of business. If you also providing your service through the internet, then definitely you would have knowledge about internet usage and website running procedure in Pakistan.
Website is the perfect option and widely used platform where every online service provider serving their people. In Pakistan, people are also serving through the internet, and they registered their websites with some special requirements that are issued by local agencies that work for the check and balance of internet usage on a national level. When people come to register their websites, they are offered specific extensions with their domain name, then they follow the issued guidelines and publish their websites online.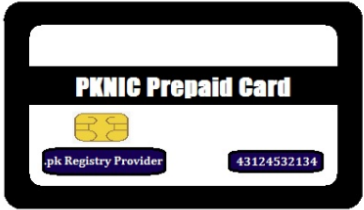 Every country has its own top-level domains (TLDs). In case of Pakistan, Pakistan has its own ccTLDs like .pk, .com.pk, .edu.pk, .gov.pk etc. Pakistan network information center (PKNIC) is responsible to register the domain names with the .pk extension. All registrants who come for the registration, are bound to follow the terms and policies of PKNIC. In this case, they get registration with the .pk domain on Pakistan-level.
What is PKNIC Prepaid Card?
PKNIC prepaid card is a special type of pin code that is being used for the recharging/registration of the .pk (Pakistani domain) domains. Pknic card, a plastic card having a twelve-digit scratch code, serves the purpose of getting or renew—Pk domain with full ease and proficiency. PKNIC cards are used to register the domains for websites under the registry of Pakistan. These cards are valid for registration and renewal of domain name offered by PKNIC SRS. One card is valid till two years and can be used to register the PKNIC offering domains like .pk, .com.pk, .gov.pk, .edu.pk, .net.pk, .biz.pk etc.
If you have registered your .pk domain with any registration company in Pakistan and now your domain has reached the expiration date, you can purchase this card and renew or you can contact your service provider directly to do this.
Purpose of PKNIC Card:
The main and basic purpose of this card is to register and renew your domain name under the authority of the Pakistan Network Information center. Without fulfilling the PKNIC rules, you can get to register your website in Pakistan. You can purchase this card from any reseller who is working with the cooperation of this national agency.
Benefits of PKNIC Card:
By using a PKNIC card you can renew or register your domain by yourself. You do not need to worry about the finding of the registration company. If you purchase cards in bulk, then you will get discount packages on them. Moreover, you can transfer your service-providing company at any time when you want.
How I can Buy pk Domain:
If you want to register your business website, informative webs or your personal blogs, then it is the best time to show your dedication and love with your country. You should register your domain name with .pk to get maximum response and traffic on your site at the country-level.
You can contact any reseller who is working and providing registration service with the cooperation of PKNIC. The registration provider will guide you about the complete procedure. Don't forget to make your agreement and check all the terms and policies of service. After meeting requirements, in just a few minutes you will see your website online.
Renewal of PK Domain:
According to PKNIC policy, the domain can be registered for a minimum of two years and a maximum of ten years. When your domain is about to expire, you will need to renew your domain name, otherwise, it will expire and be assigned to another user.
How Much Costly PKNIC Card?
In Pakistan, every reseller is selling cards at affordable prices. Minimum a card charged as Rs. 1175 per year. But one can be brought it a minimum of two years. If you purchase the cards in bulk, you will be entertained with a discount. So, purchasing in bulk can be beneficial for your business.
In short, resellers can be contacted for the registration of websites in Pakistan. But, if you want more users and traffic to your website, you should choose a domain with a local extension. As Pakistanis, we should choose .pk to get maximum response from Pakistani people.
Who is Providing in Pakistan?
Many service providers are selling PKNIC prepaid cards in Pakistan. They are serving their nation with their services. Many of them are serving at very low prices. But when you are choosing for yourself, you should see all the perspectives for the best experience. Pk Domain is one of the best and trusted company which is providing its multiple services like domain registration, web hosting, VPS hosting, dedicated server hosting, web designing, and web development, etc.