Today is the age of modern technology. Technology is advancing more and more with each passing day. With each passing day, digital currency and businesses are expanding around the world. People are turning their minds to get more revenue with less effort. People are even investing from their homes with their computers and doing business all over the world.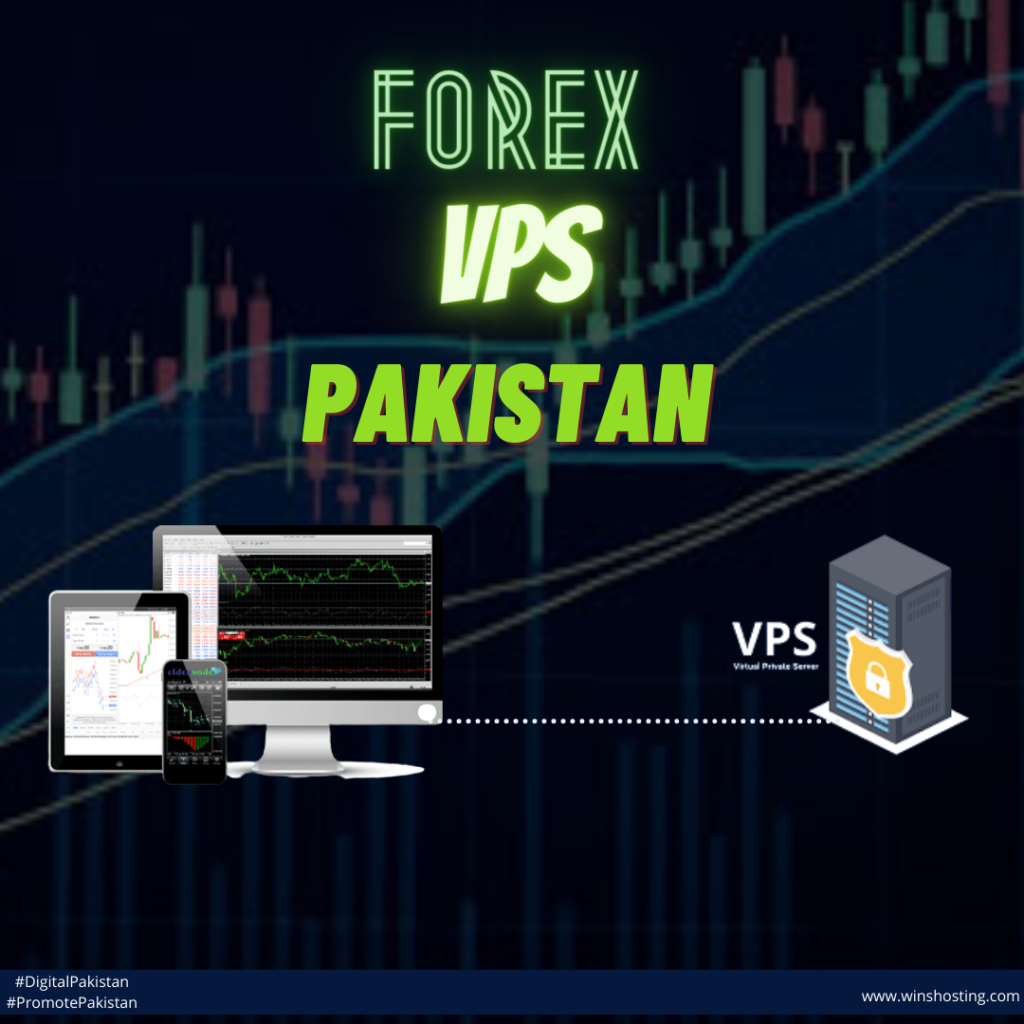 With the rest of the world, FOREX trading is also increasing in Pakistan. Many business persons, young, professionals, and students are also investing in FOREX trading. They just choose their expert advisor (EA) and start investing. In this method investor and EA, both earn. As FOREX trading is increasing day by day, so it required powerful processing machines which help the investors to earn maximum in minimum time. VPS hosting is using for FOREX all over the world and also in Pakistan on large scale. Now FOREX VPS Pakistan version is also available for the people of Pakistan.
What is VPS?
A virtual private server (VPS) is a type of web hosting, which utilizes server farm facilities to permit organizations to locate actual hardware to give a direct ISP connection, with Forex VPS data centers or expert PC worker offices giving the capacity to trading substances to have their trading software for 24-hour operations.
VPS hosting has been created to make the most awesome aspect of both worlds, the best parts of shared hosting and dedicated hosting administrations, setting the site on a server that additionally has different sites running on it, the only distinction being that there are not many sites per server. An innovation known as virtualization is utilized to compartmentalize a VPS center.
Every one of the websites shares the running expenses of the server, either month to month or yearly, with the expenses extensively lower than that of a dedicated hosting site. Virtual private servers are unique in relation to shared hosting in that your site will not impart assets to adjoining sites, each site being a partitioned server zone with its own operating system, storage, RAM, and month to month data transfer limits, in this way giving a smoother and more steady site execution.
What is FOREX VPS?
FOREX VPS is a service in which traders deploy their expert advisors (EA) on a dedicated server that will be running 24/7 without any interruption, freely from the broker's PC, and without any worries and efforts from the trader's side.
How Does FOREX VPS Work?
Institutional dealers pay sizeable fees to site their trading machines close to the exchanging engines where they derive their news trades. Most retail brokers can't bear the cost of the expenses that institutional merchants pay, which has prompted expanded interest in FOREX VPS services, which provide access to comparable modern facilities for 24-hour exchanging at essentially lower costs than a co-located facility. Retail brokers likewise profiting from a host site giving the vital stability, precision, and speed needed for trading software utilized today.
The standard arrangement for a trader would be with a local PC associated with the internet for the exchanging station, typically MT4, to run and trade. An expert advisor (EA) appended to the trader's PC requires an internet connection to trade. With VPS, the FOREX VPS sidesteps the issue of the broker being associated with the internet; the FOREX VPS set up to transfer information and trade requests to the Broker's MT4 server.
What is MT4?
MetaTrader4, usually known as MT4 is an electronic exchanging platform most as often as possible utilized by retail FOREX brokers. The product is authorized to FX brokers who thusly give the software to their customers, the software used to see live streaming costs and outlines just as to execute trades and oversee accounts.
cTrader's web trading platform is similar to its desktop application and accompanies a variety of features, with a trading experience, thought about better than that of MT4. cTrader is all the more generally utilized by more modest FX/CFD specialists.
Protrader is an MT4 elective for multi-resource dealers and banking organizations, which gives the merchant a lot of degrees for customization to address intermediary operational necessities just as addressing the requirements of customers.
MetaTrader4 might be the most broadly used platform, yet with rare updates and firmness, other platforms are starting to acquire fame, especially as brokers become more specific on platform needs.
Why FOREX VPS?
As VPS provide us speed and efficiency at work that our personal computer can't perform. So, there are some reasons for considering trading on a VPS instead of your own computer directly:
You can connect with your network anywhere, you just need an internet connection, VPS provides you the flexibility to trade anywhere anytime.
When trading is automated, trades can proceed even with blackouts, which is especially helpful when a computerized system doesn't need checking.
Trading can still be done when your personal computer is off.
VPS frameworks offer the absolute most strong security, with managed VPS servers being checked the time by time to make sure that they are working with most specialist organizations ensuring 99.9% uptime, with antivirus and another programming likewise gave to guarantee that your software is pretty much as secure as could possible.
VPS can trade faster as compare to your personal computer because it is faster in transmitting orders, reducing losses and delays.
Key Features when Selecting FOREX VPS:
As we know FOREX trading is more important when we are doing with our precious investment. And as VPS also provides boosting to our trading, so some key features keep in mind when selecting FOREX VPS. Some features are below:
Performance: Performance: Most FOREX VPS use virtualization technology, permitting the FOREX VPS specialist to categorize and part their assets among various clients, the issue being a client with a high responsibility could affect execution for other client compartments, virtualization is done at the operating system level and not hardware level. Less uptime and speed could prompt expanded latency.
Flexibility in Hosting Plans: Flexibility in Hosting Plans: When you choosing VPS for hosting, you should choose a variety of hosting plans. It will help you to grow your FOREX trading.
Location of VPS: Location of VPS: It is important to choose a FOREX VPS which is co-located with your dealer's server as the inactivity time frame is reduced where the VPS is co-located with the broker's server.
Uptime: A VPS should provide 99.99% uptime, which requires a VPS supplier to have huge repetition in the system, which permits the VPS provider to have the fundamental system assets to successfully move clients to another compartment if there is a downtime in a specific compartment.
Accepting Range of Applications: A VPS should be able to accept all type of FOREX software and programs.
Briefly, if I describe then the summary of the whole discussion is, FOREX is increasing, traders, brokers using VPS and hiring expert advisors (EA) and earning a good amount of income.
In Pakistan Who is Providing?
In Pakistan, many web hosting service providers are offering share, VPS, and dedicated server hosting. But all of these are not providing FOREX VPS service. Wins Hosting is one of the reliable and largest hosting company which is working since last 12 years and providing you  FOREX VPS hosting. As trading is growing also here, and people facing cost problems, so Wins Hosting providing the FOREX VPS Pakistan version at very affordable prices.